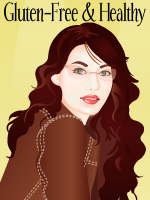 Do you have a Favorite Recipe, a Great Tip, a Great Resource or a Giveaway? Do you have a Giveaway Linky or Recipe Carnival on your blog? Or maybe you would just like to share your Food or Health Blog/Website.



Add your link to my Food and Health Carnival.
All I ask for in return is for you to add my blog button above to your blog and/or a link to my website.
Lisa's Gluten-Free Advice and Healthy Living
.
Another idea is that you could add my link to your blog roll. Thank-You.
Add Your Gluten-Free and/or Healthy Living Blog to my Directory.
(if you added your blog to this directory before, please add it again. I had to change to a different linky, because the linky I was using is charging money now. Thank-you)
This week I will share with you:
I am gluten intolerant, now what do I do?
Be sure and check out my current giveaways located on my right side bar. Have a great week.